CAN YOU MAKE MERINGUE IN A BLENDER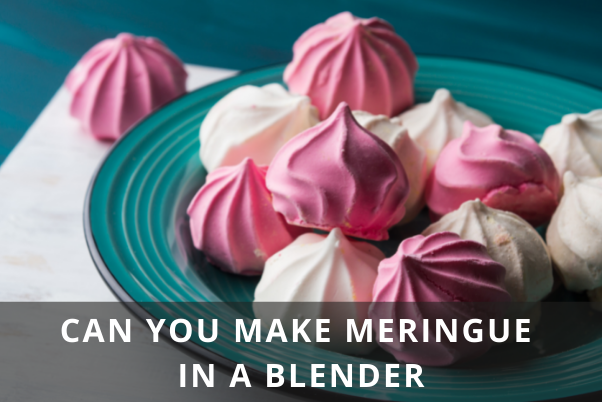 Is there any person who doesn't love meringue? Of course not. This perfect mouthwatering dessert can make anyone's bad mood into a sweet one.
And the preparation process of this ethereal dessert is a very simple task to manage. You can make them in a variety of ways. But can you make meringue in a blender? The simple answer is yes, you can.
Blenders can especially help beginners to learn the making of meringue very easily. And we are here to provide you with tips and tricks using a blender below. So, let's get started.
How to make meringue using a blender
Making meringue is a very easy process to follow. Therefore, let's know in detail how to make them using a blender.
1. Take a clean dish
Get the best taste of your meringue by preparing your bowl neat and clean. That's because a clean bowl ensures to keep the authentic taste of the dessert. And if there is any fat left on the surface of the dish, you will surely get an unpleasant flavor in your meringue.
Therefore, before starting the process, wipe down the dish using vinegar or lemon juice. After that, let your bowl dry completely and get started.
2. Separate the egg yolks
Make sure that your eggs are kept at room temperature before making the meringue. You can use your hands to separate the yolks from the egg white. Conversely, you can also use gadgets to do this job.
Dump the whites after breaking each egg. As a result, if there happens to be any cracking of yolks or funky eggs, it can't ruin the entire batch.
3. Put in cream of tartar
To stabilize the egg whites, add some salt as well as the cream of tartar. Because cream of tartar is an acidic substance that can preserve the constancy of egg whites.
If you don't own the tartar, you can use lemon juice or vinegar instead. These ingredients might not give you the required result, but they will work just enough in your final outcome.
4. Add sugar
Try to add superfine sugar while making the meringue. You can also use granulated sugar but make sure to crush them into powder using the blender. However, if you are going to make the French meringue, you need to take a lot of time. You have to slowly add the sugar with a very little amount into the mixture.
Make sure to dissolve your sugar in the meringue completely. While running the blender at this stage, you can add vanilla or other flavorings to give the flavor. Finally, when you get a stiff, glossy, and thick marshmallow consistency out of your meringue you can stop blending them.
On the other hand, in the case of Italian or Swiss meringue, the preparation process is the same as the French one. The only difference here is, you need to pre-dissolve the sugar. After following the steps of blending your meringue is now ready for the piping bag.
How long does it take to make meringue?
Firstly you need to whip your egg whites very carefully. And continue blending your meringue until you see any peaks. When you get a stiff peak from your egg whites it means that your meringue is ready for piping and baking. As you need to dissolve your sugar with the egg whites very slowly, it might take some time to be prepared. So, have some patience while making the dessert.
Can you make meringue in a nutribullet
Yes, of course, you can make meringue in a nutribullet. Because this blender can finely crush your sugar into a smooth powder which is an essential ingredient of delicious meringue. The sharp blade and bullet-shaped jug are perfectly suitable for the task. So, have a go with this one without any worries.
Best NutriBullet blender for meringue
When it comes to creating the perfect meringue, the right kitchen tools can make all the difference. Among the myriad options available, one blender stands out as a true champion in effortlessly achieving that cloud-like consistency – the best NutriBullet blender for meringue.
With its innovative design, powerful motor, and precision engineering, this blender not only simplifies the meringue-making process but also ensures consistently exquisite results.
Whether you're a seasoned baker or an aspiring home chef, the harmonious fusion of technology and culinary artistry found in this NutriBullet blender elevates the creation of delicate meringues to an entirely new level.
1. NutriBullet Rx N17-1001 Blender, Black
Introducing the NutriBullet Rx N17-1001 Blender in sleek Black. With its powerful 1700 watt motor, this blender effortlessly handles your blending needs. Whether it's a quick single serving or a larger family-sized portion, the 30-ounce short cup and 1-liter pitcher provide versatile options. The innovative SMART technology enables hands-free operation, while the Auto Start/Stop functionality adds convenience.
Experience the convenience of a heating cycle designed specifically for soups and sauces. This blender is crafted to adhere to both US and Canadian Electrical Standards, ensuring safety and reliability. Elevate your blending game with NutriBullet Rx, the ideal kitchen companion for effortless and efficient blending.
2. NutriBullet NB9-1301W Pro 13 Pcs White, 900W
Introducing the NutriBullet NB9-1301W Pro 13-Piece Blender in White, boasting a robust 900-watt motor for swift and potent blending. Unleash the power within dense whole foods like nuts, seeds, and hard fruits, transforming them into wholesome shakes, smoothies, and nut butters effortlessly. Elevate your wellness journey with the enhanced nutrient extraction blades that masterfully pulverize even the toughest ingredients, while the sleek design remains user-friendly.
This comprehensive package includes a 900W motor base, an extractor blade, two 32 oz. cups, two to-go lids, two lip rings, and two lip rings with handles, accompanied by a recipe book. The dynamic stainless steel extractor blades utilize cyclonic action to dismantle resilient components, and the high-performance, BPA-free plastic cups ensure durability. Embrace a health-conscious lifestyle with the NutriBullet NB9-1301W Pro – your ally for crafting nourishing blends in seconds.
3. NutriBullet ZNBF30500Z Blender Combo 1200 Watt, 1200W, Dark Gray
Elevate your nutritional experience with the NutriBullet ZNBF30500Z Blender Combo. This powerhouse boasts 1200 watts of blending might, allowing you to craft an endless variety of delectable smoothies, soups, nut butters, and more. Its dynamic design features a multi-serving 64 oz pitcher and a convenient 32 oz cup, along with a 24 oz cup for single servings. With three precision speeds, a pulse function, and an extract program, full control is at your fingertips.
Crafted for durability, the blender's stainless-steel easy-twist Extractor blade operates with cyclonic precision. The BPA-free pitcher and cups are fashioned from high-performance plastic, ensuring safe and reliable usage. Cleaning is a breeze – simply toss the pitcher and cups in the dishwasher and rinse the Extractor blade.
Sleek and compact at 8.07″ L x 7.75″ W x 16.97″ H, this combo includes a 1-year Limited warranty. Delve into the included recipe book and harness the potential of North American & Canadian Electrical standards-compliant innovation. Embark on your culinary journey with the NutriBullet Blender Combo.
4. NutriBullet ZNBF30400Z Blender 1200 Watts, 1200W, Dark Gray
Elevate your culinary experience with the NutriBullet ZNBF30400Z Blender, boasting 1200 watts of sheer blending power. This sleek dark gray blender is your kitchen ally, swiftly and precisely transforming ingredients into delectable concoctions. With three precision speeds and a pulse function, mastery over your blends is a button-push away. Craft smoothies, soups, sauces, and nut butters galore with ease.
Included in the package are essentials for your culinary journey: a 1200 watt motor base, a 64 oz blender pitcher accompanied by a vented lid cap, a trusty Tamper, and a curated recipe book to ignite your creativity. The robust stainless-steel NutriBullet blade, employing cyclonic action, ensures optimal blending performance. The BPA-free high-performance plastic pitcher guarantees durability and is dishwasher-safe for effortless cleanup.
Your investment is secured with a 1-year Limited warranty, while adherence to North American & Canadian Electrical standards is assured. Consult the user manual and delve into limitless culinary exploration with the NutriBullet ZNBF30400Z Blender.
5. NutriBullet NB9-1301ALP Pro 13 Pcs Matte Light Plum, 900W
Elevate your blending experience with the NutriBullet NB9-1301ALP Pro in elegant Matte Light Plum. Boasting a robust 900W motor, this powerhouse is designed for speed and strength, effortlessly transforming dense whole foods like nuts, seeds, and tough fruits into wholesome shakes, smoothies, and nut butters. The optimized motor and advanced nutrient extraction blades ensure a seamless blend every time.
This 13-piece set includes a 900W Motor Base, Extractor Blade, two 32 oz (900ml) Cups, To-Go Lids, Lip Rings, Handled Lip Rings, and a Recipe Book for culinary inspiration. Crafted from BPA-free plastic, the high-performance cups ensure durability.
Cleaning is a breeze – detach the blade, rinse, and pop the cups in the dishwasher's top rack. Backed by a 1-year limited warranty, the NutriBullet NB9-1301ALP Pro offers both power and convenience, paving your way to a healthier lifestyle.
Final Talk
So, we have learned a lot about making meringue using a blender. I hope now you have got your answer on whether can you make meringue using a blender.
The experts prefer to use a mixer or electric beater in this case. But a blender can also get the job done swiftly. So, why not try yourself out with the given instructions above?