Giant chocolate chip cookies recipe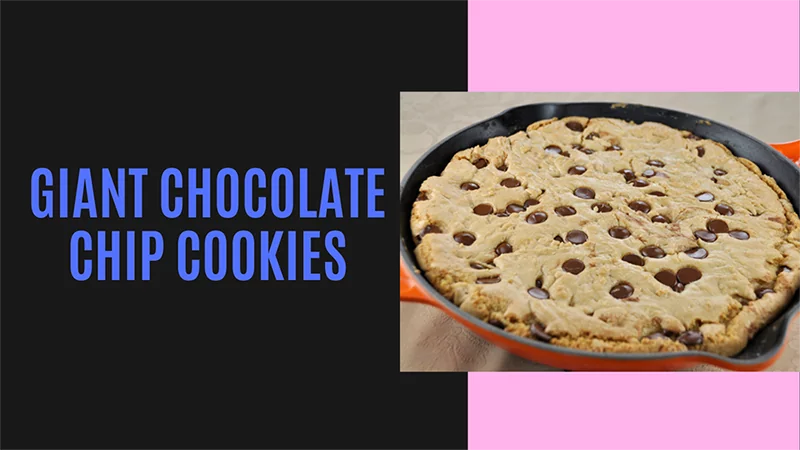 Unlike other desserts, it is hard to say no to giant chocolate chip cookies which can be eaten anytime on an empty or full stomach.
They are extremely rich and dense, with crisp borders, gooey centers, and chewy texture throughout.
Apart from being absolutely yummy, they are also pretty simple to make at home. Giant chocolate chip cookies are what I prefer and to assist you I have included a personal favorite recipe in this article.
Bake a big batch of giant chocolate chip cookies all at once so you don't have to go outside every time you get a craving. Besides, these cookies can be offered as a delicious snack anytime you have unexpected visitors.
Ingredients for giant chocolate chip cookies
Before you start making giant chocolate chip cookies at home, make sure to have the following items near you.
You will need 2 and ¼ cups of all-purpose flour, 1 teaspoon of baking soda, and 1 and ¼ teaspoons of cornstarch. Cornstarch ensures a thick and especially soft chocolate chip cookie.  For flavor, you need a pinch of salt and 1 teaspoon of vanilla extract. Besides, it is important to use 1 cup of softened room-temperature butter instead of melted butter. This can change the chewiness of your cookie. Use both brown sugar (¾ cup) and granulated white sugar (¾ cup). Apart from sweetening, brown sugar will help to make the chocolate chip cookies chewier and white sugar melts inside the cookie dough, allowing the cookies to spread more easily. Lastly, you will need 2 eggs (one full egg, another only the yolk part) and chocolate chips of about 1 and ½ cups. The more chocolate chips you use, the tastier they will turn into.
All of these ingredients contribute in different ways to the deliciousness of your chocolate chip cookies.

Giant chocolate chip cookies recipe
Giant chocolate chip cookies are easy to make. All you need to do is follow some steps and use the right amount of ingredients.
Step 1
Start with the dry ingredients first. In a large bowl, take the flour, cornstarch, baking soda, and salt together and whisk them.
Step 2
In another bowl add butter and sugar. Do not use warm or melted butter. Warm butter will not adequately cream into the light and fluffy texture required. So, using room temperature is recommended. Now add egg, egg yolk, and vanilla extract to the wet ingredients. Make sure to beat them together well.
Step 3
Gradually add the dry ingredients to the wet ones and add chocolate chips.
Step 4
Spread on a 14-inch circular pizza pan that has been greased. Keep the oven at 325°F so that it cooks uniformly rather than over-browning on the edges and tops. It takes about 20-25 minutes to make the cookies.
Step 5
Because the enormous chocolate chip cookies are unusually moist in the middle, allow 15 minutes for them to cool to harden before decorating them.
Giant heart shaped chocolate chip cookie recipe
Write a recipe about a giant heart-shaped chocolate chip cookie:
Ingredients:
– 2 1/4 cups all-purpose flour
– 1 teaspoon baking soda
– 1 teaspoon salt
– 3/4 cup unsalted butter, melted
– 1 cup packed brown sugar
– ½ cup white sugar
– 2 large eggs
– 2 teaspoons vanilla extract
– 2 cups semi-sweet chocolate chips
Instructions:
Preheat oven to 350 degrees F (175 degrees C). Grease a giant heart-shaped baking pan with shortening or cooking spray.
In a medium bowl, mix the flour, baking soda, and salt together then set aside.
In a large bowl, mix the melted butter, brown sugar, and white sugar together until combined.
Beat the eggs one at a time. Then add vanilla extract and combine again.
Slowly mix in the dry ingredients with the wet ingredients until no streaks of flour remain and everything is mixed together evenly.
Stir in the chocolate chips until evenly distributed.
Spread the cookie dough into the giant heart-shaped pan, flattening it with a spatula or spoon as needed so that it's even throughout.
Bake for 20-25 minutes or until edges are golden brown and the center is cooked through.
Allow the giant heart-shaped cookie to cool for 10-15 minutes before cutting into it. Enjoy!
This giant heart-shaped chocolate chip cookie recipe is sure to delight everyone in your family. Enjoy the sweet, delicious taste of semi-sweet chocolate chips, and let your giant heart-shaped cookie warm your home with love. Enjoy!
Conclusion
Giant chocolate chip cookies are always one step ahead in the game when it comes to making something quick, easy, and delicious. These mouthwatering cookies can easily uplift your mood no matter what.
Make sure to follow each step carefully as otherwise, it may not turn out as desired. Also, do not forget to let me know how your cookies taste if you follow the recipe.
Please leave your valuable suggestions or queries you may have in the comment section. I will be more than happy to answer them.