SCANPAN VS GREENPAN – WHICH IS BEST TO USE?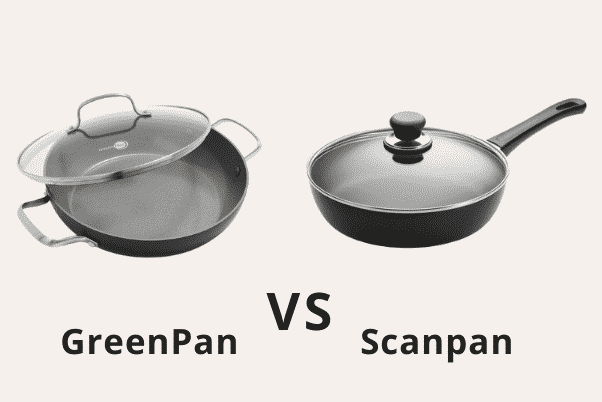 Nonstick pans have become extremely popular in recent years. GreenPan and Scanpan, in particular, have taken the kitchen by storm.
Now the question is, "Is GreenPan or Scanpan better?" Well, choosing between these brands depends on the levels of heat resistance, durability, and longevity that you're looking for. GreenPan is a great value for money and eco-friendly as well, while Scanpan is made with premium materials. But, both of them are great choices.
Luckily, we are here to make things easier for you. We'll be going over some of the important aspects of these pans – from induction capabilities to design. By doing so, we will have a clear idea of which brand is superior.
After all, we all want the best gear in our kitchen. So, be sure to keep reading our comprehensive examination of these cookware brands.
Remember that, for better or worse, your cookware of choice will always have an impact on the way you cook and how your meals turn out.
Which is better scanpan or greenpan
Before we proceed to the matter at hand, we must also take a closer look at these two brands – from their history to how they produce their pans. This is extremely important as it will give you a great idea of what to expect.
Remember, the manufacturing process will greatly impact the quality of the final product. That is why we have deemed it necessary to highlight these aspects of the brands so that you can be better informed as a consumer. Here we go,
GreenPan Cookware
First, we have GreenPan. This high-end Belgian-made cookware brand is a pioneer in the cookware industry.
This is because it was among the first cookware manufacturers that initiated the shift from traditional nonstick coatings towards safer and healthier alternatives.
To be more specific, GreenPan has been advocating the use of safe and eco-friendly materials without sacrificing quality or durability.
The brand currently uses recycled aluminum and stainless steel which has caused a massive drop in the company's CO2 emissions.
It is also worth noting that GreenPan's cookware is coated with Thermolon – a ceramic-like material that is derived from sand. It can withstand extreme levels of heat – with a heat resistance certification of up to 842 degrees Fahrenheit.
The same material is also completely non-toxic as it contains no traces of lead and cadmium, nor PFOA, PTFE, and PFAS.
Listed below are the GreenPan models available in the market today:
As the brand's name suggests, all of these different pans are made specifically for environmentally-conscious home cooks. This is certainly worth remembering as it gives GreenPan an important advantage in terms of social impact.
Scanpan Cookware
On the other hand, we have Scanpan. This family-owned cookware company finds its roots in Denmark.
Yet, for the past three decades since its initial foray into the market, it has worked towards establishing itself as a global brand.
Now, Scanpan has become a force to be reckoned with when it comes to cookware.
The brand is known to exclusively use recycled pressure-cast aluminum for its products. These pans come equipped with a unique coating in the form of Stratanium+.
Completely non-stick and tougher than steel, this patented coating from Scanpan is made from durable materials like ceramic and titanium. This means that you can expect these pans to be incredibly resistant to scratches.
Moreover, it should have no trouble standing up to high temperatures. According to Scanpan, their pans can be subjected to heat of up to 932 degrees Fahrenheit without compromising their nonstick capabilities.
Listed below are the different Scanpan nonstick products available on the market:
Take note that these pans are also known for their versatility, as all of them are compatible with your dishwasher, induction cooker, and oven.
Scanpan Vs GreenPan – What's the Difference?
Now that you have a better idea of the primary difference in the production difference between the two brands, it is time to look at how they stack up when it comes to the different aspects of design and performance.
After all, these two aspects will inevitably impact the usability and practicality of the pans in a real-world kitchen setting.
So, you should pay close attention to the following section as it covers the main question at hand.
Handle and Lid Design
First, we'll need to delve into the matter of the design for the pan's lid and handle. This is an important aspect of any type of cookware as it will have a noticeable impact in terms of performance and usability.
There is a noticeable difference in terms of the different brands that approach this aspect of their products.
First, there is the Scanpan and its stainless-steel handle that comes with a riveted design. As you would expect, food often gets stuck around the rivets. This makes cleaning a real chore, especially if you are washing by hand.
Meanwhile, GreenPan uses an entirely different approach. The Rotterdam model has a stainless steel handle and comes with a removable rubber grip.
This not only makes cleaning easier, but it also provides another level of convenience as it lets you carry your pans even when they are hot.
Oven Use
As stated in the previous section, both of these brands claim to produce pans with high levels of heat resistance. The actual heat resistance will vary depending on the specific model.
For instance, the GreenPan Lima can withstand up to 420 degrees Fahrenheit while its Paris model has a maximum heat tolerance of up to 850 degrees Fahrenheit.
The Scanpan has a clear advantage in this regard as several of its pans feature heat-resistant capabilities of up to 932 degrees Fahrenheit.
This means that you can stick them in the oven and not have to worry about any adverse effects on their structure and non-stick coating.
And, you'll want to make sure you have the proper heat-resistant utensils to go along with your super heat-resistant pans.
Heat Distribution
Heat distribution is an incredibly important aspect of cookware effectiveness. This is because it will have a concrete and visible effect on the evenness of your cooking.
After all, you want to ensure that your food is properly seared and evenly browned throughout.
In this regard, Scanpan is once again the clear winner. This is because it makes use of a perfectly flat and thick base that leads not only to effective heat distribution but also great heat retention as well.
Sadly, GreenPan has been noted as inconsistent in this regard, especially with its Paris and Rotterdam models.
Scanpan vs Greenpan: Their similarities
They both make non-stick frying pans. But, Scanpan has a wider product line and they even make stainless steel models. Of course, stainless steel pans arenu2019t non-stick. Greenpan names its product models after cities. If youu2019ve watched Money
Heist, then this wonu2019t be your first time coming across such a naming criterion. All Greenspan product lines differ on features. This line is blurrier on Scanpan products and overlapping features arenu2019t a rare phenomenon.
scanpan vs greenpan: Pan sizes
Greenspan frying pans range from 12cm up to 33cm, with the larger models being better at searing fish. Scanpan products have a somewhat narrower size range with the largest pan having a 14.3-inch diameter and 8 inches on their smallest one. They even feature a 10.5-inch square pan, a concept that Greenpan is yet to borrow.
Are they dishwasher and oven safe?
According to the manufacturer, Scanpan is oven safe up to 500 degrees Fahrenheit. Greenspan, on the other hand, can only withstand up to 420 degrees Fahrenheit. This is acceptable considering that most non-stick frying pans cannot go in the oven.
I wouldnu2019t use a frying pan in the oven irrespective of the manufactureru2019s recommendation. Iu2019m sure these high temperatures would do the non-stick coating more harm than good.
The Scanpan and the Greenpan are both marked as dishwasher safe. However, most dishwashers use strong detergents that are certainly destructive to the non-stick layer. Handwash your frying pan with soapy warm water and it will outlive its usefulness. Throw it in the dishwasher (especially the top rack) and you will be back shopping for a new one faster than you would love.
How they perform
Thanks to their thick stainless steel bases, both models have received credit for their cooking consistency. The flat bases ensure that there is even heat distribution to the food on the pan. When cooking with either, you will notice that there are no hotspots (or cold spots) in the food.
Durability
It should be stated here that the non-stick properties of any cookware brand aren't designed to last forever. This should be made clear upfront so that users do not set any unreasonable expectations when buying either of these brands.
However, there is the question of which brand lasts longer.
Let's have a look at Scanpan first. The non-stick coating for their cookware usually lasts an average of a year. However, there are some cases where they can last for as long as three years.
The non-stick coating on GreenPan products is said to work perfectly during the first year of use. However, with constant use and cleaning, its efficacy gradually decreases.
The longevity and durability of this cookware are greatly increased if you avoid subjecting it to high levels of heat regularly. This means that it is ideally used in low to medium heat settings.
It is also recommended to let the cookware cool before washing to avoid rapid cooling which inevitably contributes to the non-stick coating's degradation.
When it comes to durability, it seems both brands are at a stalemate with no clear winner coming out on top.
However, if you take the time to follow certain cleaning and cooking conditions, as stated above, then the GreenPan might just have a slight advantage over its rival.
Price Range and Value
As you have probably noticed, this is an extremely close race. After all, both brands are known to make sturdy and durable cookware with a healthy and environmentally-friendly coating.
If there is one thing that never fails to break a tie, then it has to be a matter of price. After all, most times, it often comes down to how much you are willing to spend on a piece of cookware.
The GreenPan is slightly more affordable than the Scanpan. At the same time, with its slight edge in durability, it could make for a worthy investment on your part.
Is Scanpan toxic?
Are there any toxic elements in the ceramic coating?
No, Scanpan cookware is absolutely safe to use. All components of our cookware are FDA-certified food-safe and they're "non-toxic" -meaning that NO substances have been used in their products that could be hazardous to human health. Also, all components meet European Union's CE standards for food safety.
Scanpan cookware is, however, not recommended to use in the microwave oven or with prolonged exposure under extremely high heat (e.g. extended preheating)
as these situations may damage the protective coating on the inside of your pot or pan resulting in discoloration. We recommend
Do chefs use Scanpan?
Yes, chefs all over the world use our products. Scanpan is used in most five-star restaurants and Michelin-starred kitchens around the globe.
Scanpan is one of 10 cookware brands that is endorsed by the Culinary Institute of America (CIA). Also, more than 50 % of the cooks in the White House kitchen are using Scanpan.
Scanpan is recommended by professional chefs, cooking schools, and authors all around the world. Scanpan products are endorsed by numerous TV programs throughout the world, they have been featured in numerous cooking magazines worldwide. Scanpan is recommended by almost all famous chefs in Denmark.
Is Scanpan good quality?
Yes, only the best quality materials have been used in our production. The Scanpan cookware is made from high-grade 18/10 stainless steel of the best available quality. We only use the best cookware-grade stainless steel because it is 100 % recyclable, food-safe and it doesn't react with food acids.
Are Scanpan pans worth the money?
Yes, our pans are worth the money. The Scanpan cookware is "the most expensive" in its category because it provides superior performance and outstanding features.
Scanpan cookware is manufactured in Denmark and it has been sold in more than 80 countries worldwide since 1963. Danish design, quality, and food safety are unique features of our products.
Final Thoughts about greenpan vs scanpan
It should be noted that this was an extremely close race. However, if I were to tackle the question:
GreenPan Vs Scanpan – which brand is the best? If you're looking for value, the answer would definitely be GreenPan, albeit by a razor-thin margin. If you don't mind paying a little extra and plan on cooking on high heat often, then Scanpan is the brand to choose.
Related Post: