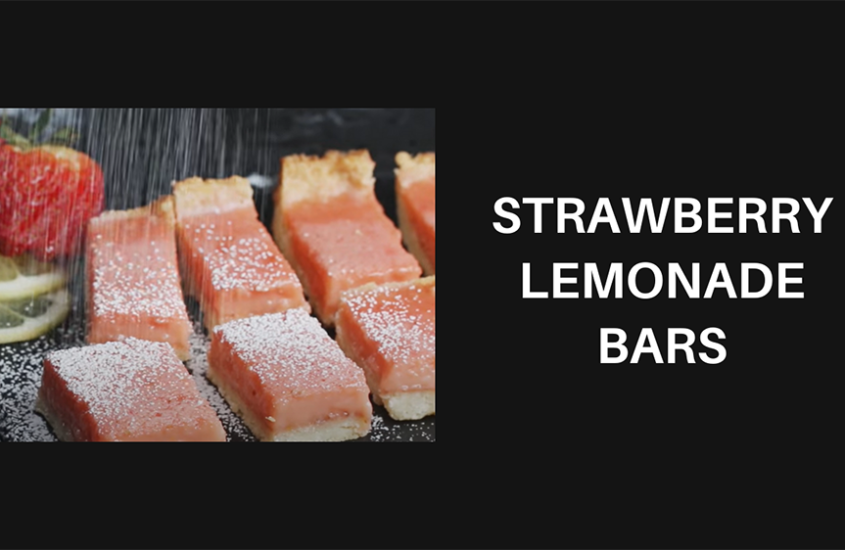 Are you looking for a fun and delicious way to bring spring and summer vibes right into your home? Look no further than strawberry lemonade bars!
If you are craving something that is sweet and tart at the same time, it will give you the perfect balance of both.
These bars have a delicious crust and are topped with juicy strawberries, zesty lemon, and just the right amount of powdered sugar. Every bite is a burst of flavor and will have you feeling like you are enjoying a sweet spring and summer day. And the best part?
They are as suitable for serving at special occasions, big restaurants, and parties as they are in a home environment on regular days.
It's an easy-to-make recipe that everyone will love. Keep reading for the full strawberry lemonade bars recipe!
What's in these strawberry bars?
In order to make strawberry lemonade bars, you have to make sure that you already have the following items. There are three steps to making these bars. If you divide your ingredients according to them, it will be easier for you to make a list.
For the crust, you will need 6 tablespoons of unsalted butter that are sliced into cubes, both granulated sugar( ½ cup) and light brown sugar (¼   cup) to enrich the filling and crust of the strawberry crumble bars. You will also need all-purpose flour of 1 ½ cups and a pinch of salt.
For the filling, you will need 1 large egg, Greek yogurt (½ cup), lemon juice (2 tablespoons), vanilla extract (1 teaspoon), granulated sugar (1/3 cup), and all-purpose flour of ¼ cup.
The third step which is making the strawberry layer requires 2 pounds of strawberries, 2 tablespoons of cornstarch, 1/3 cup of granulated sugar, 2 tablespoons of lemon juice, and zest.

Strawberry lemonade bars recipe
To make the perfect homemade strawberry lemonade bar, follow the recipe below.
First, set the oven to 350F on preheating. Take an 8-inch square pan and line it with parchment paper. It is recommended because it makes the cleanup much easier. Use cooking spray on top of it.
In a food processor, add all-purpose flour, sugar, baking powder, and salt to prepare the crust. Keep processing until blended. Next, add butter. Mix in the butter until it is all integrated. In a small mixing bowl, gently whisk together the egg, oil, ice water, and vanilla extract. Now add this mixture to the running food processor. This will also serve as the crumble topping. Take 3/4 cup of the mixture and put it aside from the rest of the mixture. Now take the 8-inch square pan and press the remaining ingredients into its base with a spatula or your fingertips to make it even.
Next, prepare the filling. To make the filling, mix egg, sugar, Greek yogurt, lemon juice, and vanilla extract with a whisk or handheld electric mixer. Now add flour to the mixer and keep stirring until it gets smooth. Evenly pour it and fill the prepared crust with the filling.
Lastly, scrape the strawberry mixture over the crust evenly. Bake it for about one hour or more. Then over the strawberry layer, sprinkle the remaining crust mixture. Give it at least two hours to cool before cutting it into pieces and serving them.
Should, I use fresh or frozen strawberries for bars
It is entirely up to you whether you want to make the bars with fresh or frozen strawberries, as both can be used. Frozen ones are less expensive and can be found all year round. Besides, they are also juicier. That is why many people prefer frozen strawberries over fresh ones for making strawberry lemonade bars.
You can use flour on the strawberry layer to firm it up. However, if you are only using fresh ones in your baking, there is no need to do that. The amount of time you will need to bake will depend on whether your berries are fresh or frozen, as well as how juicy they are.
How to store strawberry bars
If you want to keep the strawberry lemon bars at room temperature, make sure to preserve them in an airtight container. This will let you enjoy the bars for a week.
If you preserve it in the fridge, it will keep up for 10 days. Many people prefer chilled pies and find them delicious. So they preserve it in the fridge. However, if you want to keep the bars fresh for a long time, freezing them is the ideal option as this keeps the strawberry lemon bars consumable for 6 months.
Conclusion
Strawberry lemonade bars are the perfect way to bring sweet and tart flavors into your home, with a delicious crust and juicy strawberry topping. They are easy to make and suitable for any occasion whether it's for a party, or just for everyday treats. With this recipe, you can enjoy the taste of summer no matter what time of year it is! So why not give these lemon strawberry bars a try today? You won't regret it!
FAQs
What are strawberry lemonade bars?
Strawberry lemonade bars are a delicious and refreshing summertime treat. They feature a
buttery shortbread crust, and a tart strawberry lemonade filling, and are topped with a crunchy streusel topping.
Why are lemon bars runny?
If your lemon bars are runny, it could be due to the ratio of the ingredients in the filling. Be sure to use exact measurements when preparing the lemonade filling and use the correct amount of time to bake them.
What kind of strawberry lemonade does Wendy's use?
Wendy's uses Minute Maid Strawberry Lemonade.
Do you refrigerate lemon bars?
Yes, it is best to store your strawberry lemonade bars in the refrigerator. Storing them at room temperature may cause the butter to melt and make the bars soggy.