BEST GEVI COFFEE MAKER REVIEWS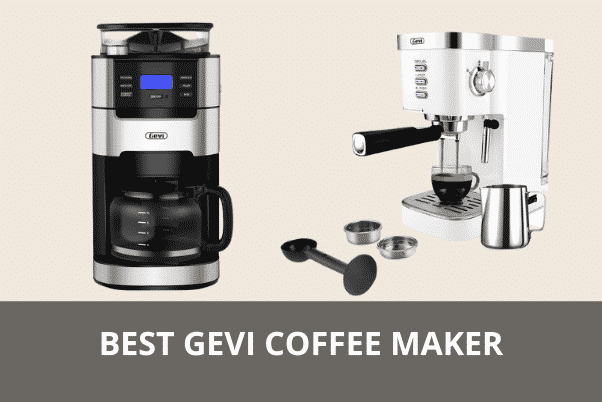 You might be hesitant to invest in a GEVI coffee maker as your next coffee maker. Just like you, a lot of people have gone through similar experiences and shared their valuable feedback on the product. Before buying a product, it is always a wise move to go through the reviews to see what the past customers have to say about it.
Fortunately, the GEVI coffee maker is a customer favorite product. Despite some minor drawbacks, the coffee machine is quite easy to use and serves you a refreshing cup of coffee whether you like your coffee light or strong.
Top 3 GEVI Coffee Maker Reviews – Why Should You Buy?
Based on the company's history, GEVI appears to be a dependable supplier of quality goods. This brand specializes in high-end coffee makers.
You might be wondering which models would be best to choose from. So, for your convenience I have narrowed down a list of 3 coffee makers of GEVI.
 1. GEVI 10-Cup Grind and Brew Automatic Drip Coffee Maker
Pretty self-explanatory from the name, it is a 2-in1 device that has a grinder and a brewer that you might want to consider having for making fresh coffee at home. The coffee beans are collected and crushed by the built-in stainless steel burr grinder, which preserves the entire flavor of the beans, and the coffee powder falls directly into the filter.
It makes your coffee-making experience better thanks to the combination of a crystal-clear LED screen and incredibly intuitive controls. It also makes the machine more convenient to operate.
You may prefer strong coffee when you are stressed and like it light or medium at other times. No matter what your taste is, this machine can provide you with eight different grinding strengths and three coffee strength controls to pick from. The "GRIND OFF" button lets you end grinding coffee powder when you want. Besides, the 2 to 10 cup grinding option allows you to control the amount of coffee beans ground.
The Programmable Automatic Start Function presets the starting time of the machine and begins making coffee at the designated time once you activate the timer mode and set the time you want it to start automatically. You can reheat your coffee for 60 minutes after brewing. After that the device will turn off the power automatically, saving energy.
Pros
Easy to use
It lets you choose the strength of the coffee
Can brew 10 cups coffee
Adjustable grind setting
Auto turn off button saves energy
Cons
A bit loud
The water reservoir is a bit small
2. GEVI 20 Bar 2-in-1 Espresso Machine with Milk Frother
This model of GEVI has a 20 bar high-pressure system that allows for quick and consistent extraction, resulting in a more aromatic and lovely cream coating for your espresso making your every morning refreshing. It takes only 45 seconds to make a decent cup of coffee.
This coffee maker has a heated metallic plate on top that keeps your cups hot, preventing cold parts from affecting the coffee flavor. Besides, there is a pressure release hole in the machine that automatically releases the pressure to ensure that it continues to operate normally.
Other functions include the powerful steam wand. When switched on, it can reach 212 ℉, producing a high steam pressure that converts milk into a silky froth. Using this machine you can make a thick, creamy froth of great texture drinks of your preference.
You can choose from three different functions. These functions include- 30 ml amount for one single shot espresso, 60 ml amount for two shots espresso, and manual option. This lets you enjoy the amount of coffee depending on your mood.
It is recommended to read the instructions manual carefully before using this machine. Otherwise you may face difficulties.
Pros
Makes smooth crema
Easy to use and clean
Doesn't make much noise
Makes fast coffee
Cons
3. Gevi 4-Cup Coffee Maker
The Gevi 4 Cup Coffee Maker is a small drip coffee maker that is ideal for small families as it has a capacity of only 4 cups (600ml).
The auto pause feature lets you have your coffee in the middle of the brewing process without having to worry about the dripping for at least 30 seconds. It has a non-stick warming plate that you can use to keep your coffee hot, fresh, and aromatic for up to 2 hours after brewing.
The auto shut-off function turns off the device automatically after 120 minutes of keep-warming. Besides, the brewing will stop by itself if there is no water in the water tank and the temperature crosses the specified temperature for boil-dry protection.
The one-touch control function makes it simple to use. To brew, simply press the ON/OFF button. The light on the bottom will indicate whether it is turned on or off.  This machine is easy to clean because of the detachable filter basket and reusable filter.
As it is a small machine, you can easily carry it and put it anywhere. Make sure to clean the machine thoroughly before and after the use.
Pros
Brews really hot coffee
Easy to use
Has auto shut-off function
It is easier to clean because the filter basket is removable.
Does not take much space
Cons
GEVI Coffee Maker with Grinder
If you want to grind your coffee, there is good news for you as Gevi also makes some excellent grinders with fantastic designs.
Most people like freshly ground coffee more than pre-ground coffee since pre-ground coffee often tastes bitter and stale. So, if you are among them, get yourself a Gevi coffee grinder.
How to Use GEVI Coffee Maker
As GEVI Coffee Makers are easier to use, you will not have to deal with the difficulties that other coffee makers come with. Below I have provided some useful guidelines on its usage.
1. Pour Water
First you need to pour cold water in the water storage container. If you can run the water from your faucet through an essential water route, you will get the best results. Filtered water is also quite effective to use.
It is recommended not to use refined water as it won't function as well. It is because refined water requires a few minerals to extricate those lovely flavors. You can use the marks on your drip espresso maker or carafe to measure water, but if you have a scale available, you can use it to measure your water for more accuracy.
2. Coffee Filter Preparation
If your drip espresso maker has a cone-shaped channel, fold the creased corners in opposite directions before inserting it in the channel box.
Some espresso makers come with a reusable tempered steel channel; if this is the case, there is no need to prepare anything.
3. Mix The Coffee
Select your desired coffee beans. Place the coffee beans in the bean box or coffee powder in the filter. Remember that you should not overfill the coffee bean tray to avoid clogging and making grinding difficult.
Run the machine and wait for the blending process to complete. Some machines can control the strength of the coffee and let you have mild, medium or strong coffee. In that case, we see a Strength Control Function on the machine.
The whole process of the brewing usually takes between three to five minutes to complete.
4. Time to Savor
Now you have made yourself a freshly brewed espresso. If the machine has a glass carafe and an electric heating plate, it is better to remove the carafe from the warming plate because the heat will make the espresso bitter.
Conclusion
Thank you for taking the time to read this article. I hope I was able to provide you with all the information you wanted to know regarding GEVI Coffee Makers.
If you try any of the above-mentioned coffee makers, I would like to hear about your first-hand experience. It would also give an assurance to other customers who are thinking of buying products of this brand.
Please let me know if you have any further questions about this product that I have not addressed. Hope you get the GEVI Coffee Maker of your preference.