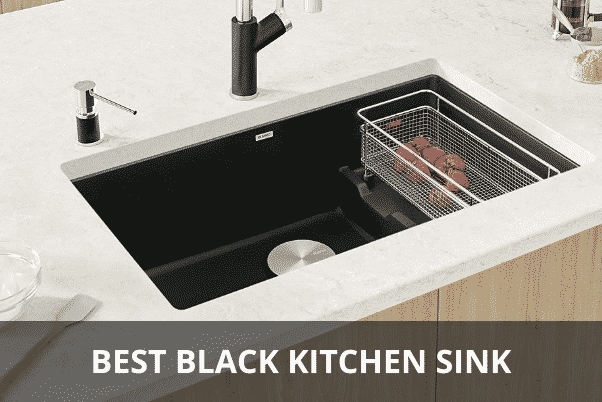 Are you looking for the best black kitchen sink? Whether your kitchen is modern or traditional, a black sink can make your space look sleek and stylish. Black sinks are becoming increasingly popular and there are now many models available that offer great quality and durability.
We have researched and reviewed some of the best black kitchen sinks on the market to help you make the best choice for your needs. Our top picks include models from well-known brands like Kraus, Moen, and Franke.
All of these sinks are designed to last and provide great performance. We also take into account factors such as ease of installation, maintenance requirements, noise levels, and price points when reviewing each product. We hope our review can help you narrow down your choices and make the best decision for your kitchen. Best of luck!
5 BEST BLACK KITCHEN SINK
Below I have provided the 5 best black sinks from different companies for your kitchen. Go through them and see which one you like.
1. BLANCO 29' Precis Cascade Kitchen Sink
Blanco, a German sink and faucet maker, has unveiled the magnificent Blanco 29' Precis Cascade Super Single Bowl sink. It comes in coal black color. This innovative black kitchen sink offers single-bowl functionality with an integrated second level for easy drainage, drying, and storing. You may also divide clean and dirty dishes using its two compartments.
A stainless steel mesh colander is included. It allows you to wash fruits without using your hand. Thanks to the under-mount installation, you can effortlessly sweep crumbs or wipe spills right into the sink which prevents filth and grime from building up around the rim.
This black stainless kitchen sink is composed of SILGRANIT, a certified granite composite material designed to withstand even the most demanding kitchen operations. SILGRANIT is fire, scratch, spot, chip, and pressure resistant than other sink materials, making it sturdy and more durable. As a result, it will not burn, melt, or discolor if it comes into contact with hot pans, or baking sheets right out of the oven.
The Precis Cascade Kitchen Sink's usefulness is limitless. It is easy to clean and it effortlessly meets the needs of ordinary living.
Pros
Easy to clean
Capable of handling a wide range of tasks
Has huge space for washing
Ideal for air-drying dishes
Durable
Cons
2. Homary 32" Granite Double Bowl Kitchen Sink
Purchase this kitchen sink today if you are bored with your existing one. This kitchen sink gives an ultra-modern aesthetic look to your kitchen with its sleek lines and matte black tone.
There is no need to be concerned about its quality deteriorating because it comes with a 10-year limited warranty. This modern black kitchen sink is made of fine quartz, which ensures long-term durability and elegance.
It has rounded sides which make it easy to maintain and clean. For its features and quality, it can handle the toughest culinary jobs very smoothly unlike many other kitchen sinks. Besides, it has two deep and large bowls that can be used separately for cleaning, soaking, and other purposes. This black double-sink kitchen has a low divider that enables you to rinse separate items in each sink bowl while limiting overflow onto the countertop.
Pros
Has a modern look
Easy to clean
Comes with 10 years warranty
Capable of performing a variety of tasks
Cons
3. TORVA 30 x 18 Inch Black Ceramic Coating
It is constructed of 16-gauge premium thick-grade T-304 stainless steel which makes it long-lasting. It comes in a gloss black color.
More room for soaking and cleaning dishes or heavier objects is provided by the 10-inch deep single bowl under-mount sink. This black undermount kitchen sink is easy to clean and features seamless transition and more counter space.
Thanks to its Nanotechnology and beautiful finish, it lets you enjoy an anti-scratch and anti-dull kitchen sink. The Nano coating on the sink also makes it immune to aging. It provides long-term durability, performance, and a shiny appearance.
The black kitchen sink is easy to clean and fingerprint-free. With its soundproofing pads, this black stainless kitchen sink lessens the sound of running water, resulting in a peaceful kitchen atmosphere. Besides, garbage is intercepted in the bottom sink grid, which assists drainage, and x-pattern drain grooves move water toward the drain, preventing water retention.
Pros
Easy to install
Has a large space for washing
Easy to clean
Scratch proof
Durable
Cons
The color is not super black; more like dark gray
4. Yawhite Modern 30" Granite Kitchen Sink
This elegant single-bowl kitchen sink will give your kitchen a new look. With a huge rectangular design and matte black finish, it increases the beauty of your kitchen.
The black kitchen sink is made of quartz which ensures durability and reliability. Big cooking pots and baking sheets can be accommodated in the kitchen sink with ease.
With the Yawhite Kitchen sink, cleaning and food preparation have been made easier. In order to clean the sink, use soapy water on a daily basis. It is highly resistant to dirt and grime and doesn't let food and liquid discolor it.
It is no hassle when it comes to installing the kitchen sink. It does not necessitate substantial kitchen cabinet and countertop modification. The package includes a kitchen sink and a drain.
Pros
Easy to install
Long-lasting
Easy to clean
Immune to dirt
Has a lot of space for washing
Cons
5. Kraus 33" Quarza Kitchen Sink
Kraus dual-mount granite sinks instantly boost the look of your kitchen. These trendy kitchen sinks are made of 80% natural granite and have the aesthetic of real stone.
The extra-deep basins easily fit large dishes, and the sink's nicely rounded corners make cleaning a breeze. Its low-maintenance surface is very resistant to dirt and grime. Coffee, wine, and grease don't have much effect on it.
A thermal finishing process protects each non-porous for which food and fluids do not attach to the surface of the sink. The engineered stone surface can endure significant temperature changes and handle hot pots and pans. Besides, it has a soundproofing design that absorbs vibrations and reduces noise when the sink is in use.
This black double kitchen sink will last a lifetime and is available in a variety of styles. The 50/50 split basin gives you more options for different culinary jobs. Besides, a basket strainer drain assembly and a complimentary towel are included with the product for your convenience.
Pros
Does not stain
Easy to clean
The huge depth of the sink makes washing easy
Has a soundproofing design
Long-lasting
Cons
The installation process may be difficult for some.
HOW TO CLEAN A BLACK SINK
Black sinks are typically used in kitchens and bathrooms to offer a touch of timeless beauty. They are also scratch-resistant because they are built of a combination of granite, quartz, slate, and other natural ingredients. However, these ingredients can make black sinks more susceptible to white stains such as soap buildup and limescale. So, there are some things you need to follow if you want to keep your black sink glossy.
At first wash your black sink with tap water before using any mild detergent. Wipe the water with dry cloth. Then soak a damp cloth in dishwashing liquid and rub it to the stained areas of the sink. Clean the sink with water once more. Check to see if the stains on the sink are still there. They usually vanish without causing any problems.
Another option for removing stains that are resistant to light liquid detergents is to apply white vinegar. Soak a clean cloth in this solution for a few minutes. Rub the stained area with a wet cloth. This procedure is usually advised for removing stubborn stains.
Apart from this, Lime-Away cleaning has also been found to work well. However, when applying it, some precautions must be taken. Since direct contact with the skin can be harmful, it is recommended to use rubber gloves. Simply spray a little amount on the stained area and wipe it away with a clean wet cloth. A paste made by mixing baking soda with water has also been found to be effective in removing stains from black kitchen sinks. Apply this paste to a clean cloth and rub it over the stain-prone area.
Best Material for a Black Kitchen Sink
It is difficult to choose the appropriate material for your kitchen sink. Below I have provided some features, benefits, and drawbacks of some best Kitchen sink materials so that you can go through them and choose according to your purpose.
1. Stainless Steel Sink
Stainless steel products are always at the top of most people's shopping lists. They are very easy to maintain and do not stain if treated properly and washed down after each use. If you are on a limited budget or simply need a replacement sink, they are the finest option as they are cheaper than other materials.
Benefits:
Durable
Cheaper than other materials
Easy to maintain
Drawbacks:
Noisier than other materials
Scratches are more prone to occur in sinks made of thin stainless steel.
2. Granite Composite Sinks
Granite composite kitchen sinks are one of the most popular options. It comes with a wide range of styles and finishes to choose from. Granite composite sinks, like stainless steel sinks, are available in a variety of mounting options, including top mount and under mount. These sinks are extremely durable. They are also scratch and stain-resistant, however, requiring daily cleaning.
Benefits:
Durable
Cheap according to its performance
Easy to clean
Comes in a variety of colors and styles
Drawbacks:
Requires daily maintenance
3. Fireclay Ceramic Sinks
Traditionalists still prefer the best black kitchen sinks that are ceramic. Well-maintained ceramic sinks can last a lifetime, providing you with easy cleaning and heat resistance. Though they are more expensive than other materials, you must first ensure that your worktop can support the weight of the ceramic sink before proceeding with its installation. When it comes to black kitchen sinks, ceramic is the best option for traditionalists who prefer its long-lasting durability and heat resistance.
Benefits:
Easy to clean and maintain
Long-lasting
Heat and stain resistant
Drawbacks:
Conclusion
I hope by now you have a rough idea of what type of black sink you want for your kitchen. You should select it according to your preference, purpose, and budget.
If you buy any of the above-mentioned black kitchen sinks, be sure to give an honest review on them. Your review will help the other customers as well.
If you have any further questions on this topic that I have not addressed, please let me know in the comment section. I will make sure to include them.