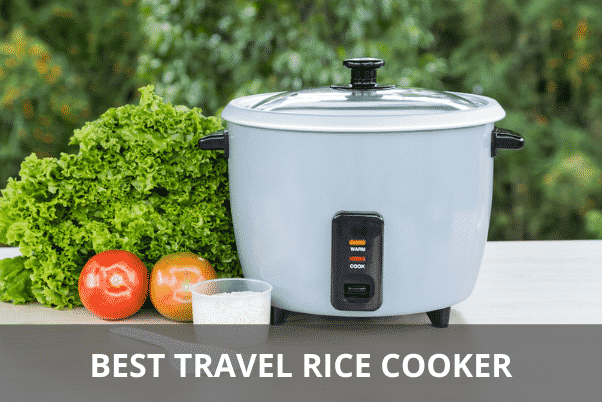 Rice cookers have become one of the most used kitchen equipment nowadays for their versatility. You can easily prepare meals and save time by using a rice cooker.
However, a rice cooker acts as a really handy companion when it comes to camping or traveling for its portable size. Not only that, it can be connected to the car's USB port and can be used to make fresh and healthy food instantly.
Anyway, there are plenty of travel rice cookers available in the market. But, you shouldn't worry about it, because we'll suggest the best ones to suit your needs.
Let's explore some of the amazing
Best Travel Rice Cooker
While traveling, the rice cooker can help you make quick meals for they come with all necessary accessories. Moreover, they are really convenient for those who travel a lot.
So, to find the best travel rice cooker for your needs we have chosen some best products accessible in the market. Therefore, let's explore them.
1. DBM-CXG 1.6L Mini Rice Cooker
With the sleek and convenient design of the DBM-CXG 1.6L mini rice cooker, you can enjoy multiple meals and save time. It comes with a double temperature controller which can balance the heat produced from the electromagnetic waves.
However, it has a wide stain inner pot which consists of a 2.0 aluminum alloy layer, a wear-resisting adhesion layer, compact corrosion prevention layer, an easy cleaning protection layer, and a durable non-stick coating. Also, its large capacity is enough to cook rice for 2-3 people.
It has a 300-watt power that allows the cooker to cook or heat the meal really fast. Moreover, this mini travel cooker comes with overheating and dry burning protection which ensures it automatically shut the power down when they occur.
Its multi-functional feature allows it to cook, boil, braise, stew, steam, and sterilize food and offers you various meals. Not just that, it's adjustable cooking mode and easy control have made it user-friendly and easily operable.
Cons
✘ The bottom of the pot might decay a bit
Pros
✓ Comes with a dual temperature controller
✓ Can act as multifunctional cooker
✓ The removable inner pot can be easily washable
✓ Has overheat and dry heat protection
✓ Offers a full-refund guarantee
2. JDH 1.6L Mini Rice Cooker For Traveling
If you often spend your time traveling in your car or truck, then the JDH 1.6L mini rice cooker for traveling is suitable for you. Because they can be used not only in your apartment or dorm room but also in your car or truck.
Moreover, they are operable in both 12V and 24V which makes them a great mini electric rice cooker for traveling. But wait! That's not the limit of this cooker, you can cook multiple dishes and keep them warm with its warm function and indicator light.
However, it comes with a sealed buckle and portable handle which makes them convenient to use. Its light weight also makes it travel-friendly. So, you can take it while camping or outing.
Anyway, they are provided with professional 24-hour customer service too. If you face any difficulties with the product, you can get a full refund within 30 days which makes them a more demandable and secure product to buy.
Cons
✘ Cannot be used in all types of vehicles
Pros
✓ Can cook the various type of meals
✓ Comes with a measurement cup and plastic ladle
✓ Has a smart operation panel
✓ Can be used in car or truck
✓ Provides 24-hour professional service with a full-refund
3. JINGTIEDA Small Rice Cooker
If you are looking for a smart solution with easy operation, then JINGTIEDA small rice cooker is perfect for you. This mini electric cooker has a smart touch panel with a digital LED display which is really easy to use.
Not just that, you can cook rice, cake soup, or even porridge with this cooker. Also, you can keep the food warm automatically for 12 hours. So, you can enjoy your food with fresh and healthy taste.
However, both the outer and inner pot is made of stainless steel except the inner pan is also coated in non-stick material and it's detachable too. So, this feature made the cooker extremely durable. Moreover, it's easy to open with just one press.
Anyway, this cooker comes with a removable inner steam lid. So, you can maintain hygiene by washing the lid. Also, its non-stick liner is easy to clean and wash.
Cons
✘ The little capacity of the pot
Pros
✓ Liner is made from stainless steel with a non-stick coating
✓ Easy to operate with its smart functions
✓ Automatically keeps food warm up to 12 hours
✓ Easily washable
✓ Comes with a smart LED display and touch panel
4. CMDREAM 1.2L Mini Rice Cooker
The CMDREAM 1.2L mini rice cooker is ideal for traveling for its size and convenience. This mini cooker is suitable for 1-2 people who often travel together or camp together.
Anyhow, the dimension of this electric cooker is 7.9″H x 6.3″W, and its capacity is 1.2L and it has a power of 200W, 110V. So, it can cook the rice and vegetables within 30 minutes. And 4 bowls of rice can be cooked out of it.
However, the removable inner pot is PFOA-free and is coated with non-stick aluminum material which makes it completely safe to use. Also, the warm function and indicator light ensure to never overcook or overheat the ingredients that are being cooked.
You can also steam vegetables with its steaming pan that is detachable and easy to wash. And the comfortable handle makes it simple for this mini electric rice cooker for traveling.
Pros
✓ Comes with one-touch operation
✓ Can automatically cook and keep food warm
✓ Includes measuring cup, rice paddle, removable pot, power line, and steaming pan
✓ The inner liner is made of PFOA-free nonstick coating
✓ Has 30 days manufacturer warranty
5. Toursion Mini Rice Cooker
People who don't have much time for packing and cooking food at the same time are sure to love the Toursion mini rice cooker. Because this cooker/lunch box comes with two stainless steel bowls where you can cook rice and heat/steam your veggies/curries at the same time.
Not only that, the inner container is made of 304 premium grade stainless steel material whereas, the outer box is made of quality food grade PP material. So, you cannot doubt its quality.
However, while using the cooker one needs to add water and even if the water runs out, the anti-dry burning function will automatically turn off the power and save the food from burning. The port plug has a waterproof design too.
As the two inner bowls are removable, they are easy to wash. Also, the box has two bowl lids too that help to prevent leaks while traveling but do remember to remove them while cooking or heating the food.
Cons
✘ Water might leak from the box while in the plug
Pros
✓ The inner pot is made of high quality 304 stainless steel
✓ Comes with a double stainless steel cooking bowl
✓ The plug port is waterproof
✓ Can cook the food within 30 minutes
✓ Has handle to effortlessly carry around
6. ONEZILI Best travel cooker
The ONEZILI best travel cooker might not be the most high-tech rice cooker out there but, it just gets the job done for busy travelers. As this cooker has enough capacity to prepare food for one or two and keep the meal fresh, it's a go for people of any age and profession.
Also, it has a power of 12V that can be operable in a personal car or truck. And its sealed buckle and handle make it a portable lunch box to carry anywhere around.
This electric cooker has three kinds of functions such as cooking, heating, and keeping food warm. Moreover, it comes with a PTC technology that not only saves energy but also prevents overheating.
However, the inner pot is made from stainless steel with a non-stick coating, which makes the cooker easy to cook and clean. And the one-button switch has made the electric travel cooker effortless to use.
Cons
✘ The un-removable pot is tough to clean
Pros
✓ Has PTC heating technology which prevents overheating
✓ Comes with 3 different functions
✓ Easily operable with a one-button switch
✓ The inner pot is made of non-stick material
✓ The buckle ensures the box is kept sealed
7. Narita rice cooker travel
If you enjoy a small quantity of rice in your everyday meal, then the Narita rice cooker travel might be the perfect one for you. It can cook 1.5 cups of rice which is enough for 1 person for their personal use.
Moreover, this cooker weighs only 2 pounds making them exceptionally portable in daily use. Not just that, this mini cooker also comes with two plastic food trays where you can keep your salads or curries along with rice in your office or workplace.
Those who can't cook properly can entirely depend on this cooker without any doubt for it can automatically shift to warm function once cooking is done. So, one doesn't need to worry about the overheating or burning of rice.
However, the electric cooker only consists of a single switch operation and two indicator lights. So, this makes the mini rice cooker extremely handy and operable in an easy way.
Pros
✓ Comes with cover, food tray, spatula, measuring cup, and non-stick inner pot
✓ The one-touch operation makes it easy to use
✓ The non-stick inner pan is easy to wash
✓ Has the warm function to keep food fresh
Buying Guide: Portable Rice Cooker For Travel
Choosing the best travel rice cooker is a challenging job. Because you need to consider some things in mind to avoid flaws and find the proper one.
But, you need not worry as the following facts will help you find the perfect travel rice cooker that you are looking for.
1. Capacity
Firstly, you need to keep in mind how many people you are cooking for because most of the travel rice cookers are small in size and so is their capacity.
If you are a single person or a family of two, then the capacity of the 1L-1.6L cooker is perfect for you. Otherwise, you have to find larger options.
2. User-Friendliness
Most of the mini rice cookers are very easy to operate. Because you might get confused with the complex settings of the function.
So, always check the operation panel if they are user-friendly or not before buying one.
3. Versatility
If you spend a busy schedule and find no time to cook food and yet want to have freshly cooked healthy foods even in your workplace, then you should check if the cooker can be easily carried around.
Because some cookers are even operable in cars or trucks. So, do check those features.
4. Weight
When traveling, people always prefer to carry fewer weight items. So, lightweight rice cookers are a must to avoid trouble and suffering.
However, mini rice cookers usually don't weigh that much yet do inspect the weight of rice cookers before buying.
5. Preset Timer
If you are a person who easily forgets things, then the preset timer setting of the rice cooker will be useful for you.
Nowadays, almost every rice cooker has a preset timer attached to them. And this feature has made the electric cooker more convenient.
6. Keep Warm Feature
You need to look if the mini cooker comes with an automatic keep-warm feature. Because this exceptional feature ensures keeping food fresh and warm even after the cooking is done.
So, you can enjoy hot and tasty food anywhere and anytime.
7. Power Consumption
Usually, an electric rice cooker consumes power from 300W to 1100W which is less than many other kitchen appliances. So, it's a good thing that this device doesn't cost electricity much.
So, remember to check the power consumption that is given on the package.
8. Dimensions
When you talk about a portable rice cooker for travel, it needs to be in such a dimension so that it can be kept in your luggage or in the back of your vehicle and save space.
That's why check for the dimensions whether they fit your necessity or not.
9. Easy Clean
If you intend to use your rice cooker regularly, then you should check whether the inner liner is washable and easily cleanable. Because it is important to maintain hygiene for a healthy life.
So, look for the non-stick coated pot as they are easy to wash.
10. Rice Cooking Options
Some people don't like to eat plain white rice in their everyday life. So, they bring contrast in their meal by cooking other rice base items like porridge, brown rice, or rice cake.
Therefore, look for the rice cooking options if the cooker can offer you or not.
11. Multi Cooking Option
Nowadays rice cookers are no longer as boring as they used to be because they can cook not only plain rice but also other meals too, such as noodles, soup, cake, vegetables, and even fish as well.
Though not all cookers offer these options. Hence, look for them before buying an electric travel cooker.
Conclusion
Hopefully, you have understood now, the best travel rice cooker can make your everyday life much easier by reducing the tension of cooking fresh food. Hence, it's really important to find the perfect one to fulfill your needs.
Therefore, go through all the aspects of finding the perfect mini travel rice cooker and keep those aspects in your mind. And this will ensure that you have the best experience.
FAQs: Best travel cooker
1. Can rice cookers be brought on the plane?
Answer: Yes, they are allowed in carry-on bags.
2. How much water is needed to cook rice in a rice cooker?
Answer: For 1 cup of rice, you need to add ½ cup of water.
3. Are rice cookers automated?
Answer: Yes, they are when the rice is cooked completely.
4. Are rice cookers safe to use?
Answer: Yes, as long as you follow the instructions properly.
5. Can I reheat food in a rice cooker?
Answer: Yes you can, for they have the reheat option. But make sure to add in a tablespoon of water.