WHAT IS FLASH RICE ON A RICE COOKER? EVERYTHING YOU NEED TO KNOW!!!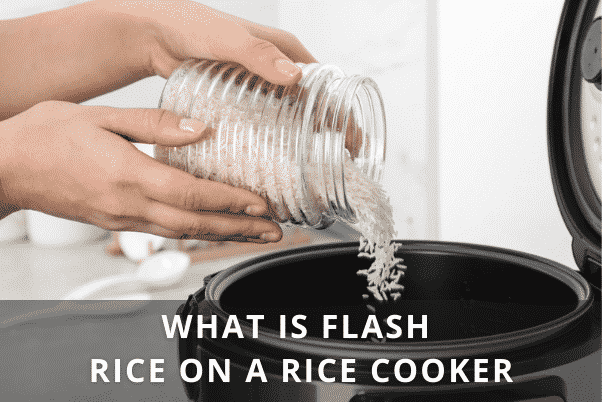 You've recently bought a new rice cooker and you're so excited as you can make the fluffiest rice using the rice cooker within a few minutes, ain't ya? But wait! Do you know what the Flash Rice option on a rice cooker works for? Maybe, don't! And that's exactly why you are over here. I got you!
Well, this might have happened to most rice lovers reading this article right now. As it's a new function added by Aroma on a rice cooker, many people aren't yet aware of it. Don't ya worry my friend!
Just sit tight and read on. In this post, I'm going to let you know the exact answer to this question: What is Flash Rice on a rice cooker? So without further ado, let's get straight into it!
What Is Flash Rice On A Rice Cooker?
Well, the new Flash Rice function is a button on some of the Aroma Rice Cookers, for example, the ARC-150SB and the Arc-914SBD. The manufacturer explains that it speeds up the cooking time for white rice. Though it's mainly used for making white rice, you can also use it to make sushi rice and brown rice in both small and large batches.
Simply put, using this function your rice will be ready much quicker. Aroma describes it as "A great time-saving option for rice in a flash." And it's an excellent option for cooking rice within a short time when you're in a hurry.
To use Flash Rice, instead of pressing White Rice, press the Flash Rice option. Then the countdown will appear on the display for the final 3 minutes of the cook cycle.
| | |
| --- | --- |
| White rice uncooked cups* | Cooking time with Flash Rice function |
| ● 1 Rice Cooker Cup* | ● 18-23 Min. |
| ● 2 Rice Cooker Cups* | ● 21-26 Min. |
| ● 3 Rice Cooker Cups* | ● 23-28 Min. |
| ● 4 Rice Cooker Cups* | ● 27-32 Min. |
* The cups referenced are with the included measuring cup.
Cup = ¾ US Cup.
Some instructions to remember while cooking rice using the Flash Rice function are as follows:
Due to bubbling or foaming, it is not recommended to cook brown rice using the Flash Rice function. Use White Rice instead.
Cooking times are approximate. Altitude, humidity, and outside temperature will impact the cooking time.
Don't open the lid during the cooking cycle frequently, because it results in losing heat and steam. Plus, cooking time will also be extended if you open the lid before the rice has finished cooking.
How long does Flash Rice take to cook?
The "flash rice" function keeps its promise as it only takes around 28-30 minutes to cook 4 cups of long-grain white rice, which is 8-11 minutes faster than the old model, keeping the rice's flavor and texture perfect.
Is using the Flash Rice function any worse than the regular rice cooking function?
In fact, I haven't experienced anything wrong with this Flash Rice function. The quality of rice will also be perfect just as you desire. Therefore, I think I will undoubtedly use the Flash Rice function all the time.
Plus, the Flash Rice function saves cooking time by up to 50%. It is ideal for oatmeal, jambalaya, chili, soups, and many more, as well.
Can you use Flash rice with brown rice?
Rice is rice, right? You can use it for everything. Right? Right…?
No.
You can definitely cook brown rice using the absorption method with flash rice, but you will end up with a sticky mush rather than flaky, separate grains. There are two reasons for this: firstly, brown rice contains much more fat in its bran layer than white, which necessitates rinsing to remove some of that grease. Secondly, brown rice has about half as much protein as white (1g vs 0.6g/tablespoon), which causes the starches to cling together instead of fluffing apart.
Do I need to wash brown rice before cooking?
Rinse uncooked brown rice just like white rice except that you don't need to use as much water – about 3X with less agitation. Drain completely before proceeding with the recipe/serving. Brown rice is lower in phytic acid than its unrefined counterparts so it only requires washing not soaking prior to cooking.
Can you cook quick rice in a rice cooker?
Yes! Any type of rice, whether it be white or brown or wild or red can be cooked in your standard rice cooker. Technically speaking, you could probably cook any grain that isn't overly dry (e.g., couscous) but the only reason to do so is if you're trying to avoid standing over a pot and stirring constantly to avoid burning.
Do you put rice or water first in the rice cooker?
You can put either rice or water in first, and it will work fine. However, the reason most people put water in first is that it's easier to measure: since you can't accurately measure how much rice you're putting into the dish, measuring by volume (i.e., filling a measuring cup with rice) is more accurate than by weight.
What kind of rice do you use in a rice cooker?
It doesn't matter. As long as it is instant rice you can cook it in a rice cooker.
There are different types of rice that you can use to cook your favorite meals. You just have to choose the best kind that will suit your taste and preferences – whether it be white, brown, or wild rice. The choice is yours!
Final Thoughts
Okay, now that you've got a clear idea about what the Flash Rice option on a rice cooker is. Hopefully, you'll be able to make use of this new option for preparing your white rice within less time.
And, did I miss Something in this article? Let me know in the comment box below so I can update the article further. Happy cooking, thanks!!!
Best rice cooker top rated
In the modern culinary landscape, the quest for convenience and perfection in cooking has led to the emergence of innovative kitchen appliances that elevate our culinary experiences. Among these, the rice cooker stands as a stalwart companion, transforming the mundane task of cooking rice into an artful endeavor.
In the realm of these culinary marvels, a selection of top-rated rice cookers emerges, each vying for the title of the best. These appliances effortlessly balance functionality and design, promising not just flawlessly cooked grains but a seamless integration of technology into our kitchens.
Join us as we embark on a journey through the elite echelons of rice cookers, exploring their features, capabilities, and the undeniable impact they have on our gastronomic adventures.
1. CUCKOO CRP-P0609S | 6-Cup (Uncooked) Pressure Rice Cooker | 12 Menu Options: Quinoa, Nu Rung Ji, GABA/Brown Rice & More, Made in Korea | Black/Copper
The CUCKOO CRP-P0609S Pressure Rice Cooker is a versatile kitchen appliance that promises to revolutionize your rice cooking experience. While I haven't personally used this product, its extensive list of features and the reputation of the CUCKOO brand make it a promising addition to any kitchen.
One standout feature is its 12 menu options, ranging from basic white rice to specialty choices like GABA rice and porridge. The LED display panel and simple touch controls provide an intuitive interface for effortless meal preparation. The inclusion of a reheat function is a thoughtful touch for dealing with leftovers.
Safety is a top priority with this cooker. It automatically releases pressure softly and includes an overheating alarm, ensuring a secure cooking experience. The stainless steel X-Wall inner pot with premium nonstick diamond coating promises even heat distribution and easy cleaning, making maintenance a breeze.
The compact 6-cup capacity is ideal for smaller families, and the pressure cooking technology offers faster cooking times while preserving the rich flavors and nutritional value of your dishes. The voice navigation system, available in English, Chinese, and Korean, is a unique feature that adds a layer of convenience to the cooking process.
Incorporating advanced technology and a trusted brand reputation, the CUCKOO Rice Cooker seems like a reliable choice for those seeking a versatile and efficient rice cooker for their kitchen.
2. Toshiba Rice Cooker 6 Cup Uncooked – Japanese Rice Cooker with Fuzzy Logic Technology, 7 Cooking Functions, Digital Display, 2 Delay Timers and Auto Keep Warm, Non-Stick Inner Pot, White
The Toshiba Rice Cooker 6 Cup Uncooked is a versatile kitchen appliance that promises convenience and great results for rice and various dishes. With its 7 cooking functions, including Mixed Rice, Quick Rice, Brown Rice, White Rice, Multi-grain Rice, Porridge, and Steel-Cut Oats, this rice cooker caters to a wide range of cooking needs. Whether you're a novice or an experienced chef, its user-friendly interface ensures easy operation.
One of the standout features of this rice cooker is its Fuzzy Logic Technology, which automatically adjusts temperature and cooking time based on the moisture content of the rice or other grains. This means you can expect perfectly cooked, fluffy rice every time, without the need for manual adjustments or guesswork. It also excels in cooking different types of grains, making it a versatile addition to your kitchen.
The safety features of this rice cooker are commendable. The detachable power cord prevents accidents, and the secure lid lock ensures spill-free cooking. With a thermal fuse, automatic shut-off, and a steam vent cap, you can cook with peace of mind.
Cleaning is a breeze, thanks to the non-stick inner pot, and the removable steam valve and vent cap. However, it's essential to note that the inner pot is not dishwasher safe and should be washed with a mild soap and soft cloth.
In conclusion, the Toshiba Rice Cooker 6 Cup Uncooked offers a fantastic blend of functionality, convenience, and safety. It's an excellent option for those seeking a quality rice cooker on a budget, with the added benefit of versatility for various dishes.
3. Zojirushi NS-TSC10 5-1/2-Cup (Uncooked) Micom Rice Cooker and Warmer, 1.0-Liter, Stainless Brown
The Zojirushi NS-TSC10 Micom Rice Cooker and Warmer is a versatile kitchen appliance that promises to elevate your cooking experience. While I haven't personally used this product, I'm impressed by its array of features and capabilities based on the provided information.
With its Micro computerized fuzzy logic technology, this rice cooker ensures precise and consistent cooking results. It boasts a 5.5-cup (1.0-liter) capacity, making it suitable for both small and large meals. The automatic keep warm, extended keep warm, and reheating cycle ensure that your rice is always at the perfect temperature.
One standout feature is the ability to cook various types of rice, from fluffy white rice to flavorful brown rice, all with a unique flow setting that caters to each type. The included steaming basket expands its functionality, allowing you to prepare healthful steamed vegetables and seafood while cooking rice.
The Cake Menu Setting is a delightful surprise, enabling you to bake cakes right in the rice cooker, with recipe guidance provided in the user manual. The removable inner lid and nonstick-coated inner cooking pan make cleanup a breeze.
Additional features such as the easy-to-read LCD display, interchangeable melody and beep signals, and a built-in retractable power cord enhance user convenience. This rice cooker's clear-coated stainless steel exterior not only looks sleek but is also easy to clean.
Overall, the Zojirushi NS-TSC10 appears to be a top-tier kitchen appliance that combines advanced technology, versatility, and user-friendly features, making it a valuable addition to any kitchen.
4. COSORI Rice Cooker Maker 18 Functions, Stainless Steel Steamer, Warmer, Slow Cooker, Sauté, Timer, Japanese Style Fuzzy Logic Technology, 50 Recipes, Olla Arrocera Electrica, 1000W, 10 cup Uncooked
The COSORI Rice Cooker Maker is a versatile kitchen appliance that promises to simplify meal preparation while delivering exceptional results. Although I haven't personally used this product, its impressive array of features and functionalities is worth highlighting.
One of its standout features is the 18-in-1 functionality, offering a wide range of cooking options beyond just rice. From various types of rice, grains, and oats to steamed vegetables, slow-cooked soups, and sautéed dishes, this rice cooker caters to a multitude of culinary needs. It's essentially a multi-functional kitchen companion that can handle three meals a day in one pot.
The advanced fuzzy logic technology is intriguing. It automatically adjusts the cooking process through seven steps, ensuring consistently fluffy and evenly cooked results. Whether you're a novice or an experienced cook, this feature guarantees perfect rice every time.
The convenience factor is further enhanced with a 24-hour keep warm function and a 24-hour delay timer. The 'Quick Rice' feature, operating at 1000W power, ensures you can enjoy your rice without long waits.
Maintenance is a breeze as all accessories, including the non-stick inner pot and removable lid, are dishwasher-safe. The guided touch display, clear measurement marks, and alert tone simplify the cooking process, making it user-friendly.
With a 10-cup capacity in a compact design, it accommodates family meal needs without taking up excessive counter space. The inclusion of 50 chef-created recipes and access to more through the VeSync app adds value and inspiration for culinary adventures.
In conclusion, while I haven't had hands-on experience with the COSORI Rice Cooker Maker, its comprehensive feature set, advanced technology, and versatility make it an enticing addition to any kitchen. It appears to be a reliable and convenient appliance for those seeking consistent and delicious results in their rice and other dishes.
5. COMFEE' Rice Cooker, Asian Style Large Rice Cooker with Fuzzy Logic Technology, 11 Presets, 10 Cup Uncooked/20 Cup Cooked, Auto Keep Warm, 24-hr Delay Timer
The COMFEE' Rice Cooker with Fuzzy Logic Technology appears to be an impressive addition to any kitchen, offering a comprehensive range of features to make cooking rice and more a breeze.
One standout feature is its Fuzzy Logic Technology, which utilizes an intelligent 6-step cooking process to ensure consistently fluffy rice with each use. This technology, in combination with the steam valve and inner pot, maintains ideal conditions for perfect simmering, even if you're not an expert chef.
The versatility of this rice cooker is truly remarkable, boasting 11 preset programs to cater to various dietary preferences and cooking needs, from white rice to pasta, soup, and steamed veggies. It's suitable for both daily family meals and larger gatherings.
The premium design adds to its appeal, with a smart LED display panel for easy program selection, a 12-hour auto-keep-warm function, and a 24-hour delay timer for added convenience. The cool touch handle ensures safety, and the easy-to-clean steam valve is a practical touch.
With a 10-cup uncooked capacity, this rice cooker is well-suited for families, parties, or outdoor activities. Its non-stick coating simplifies the cleaning process.
Safety is a top priority, with features like a detachable power cord, secure lid lock, and thermal fuse for overheating protection. Plus, the use of safe and non-toxic materials ensures peace of mind.
Included accessories like the rice measuring cup, steamer, rice paddle, and soup ladle make this rice cooker an even more compelling choice.
While I haven't personally used this product, based on its features and design, it seems like a valuable addition to any kitchen, providing both convenience and versatility.
BEST PRODUCT REVIEWS: