CAN YOU PUT ICE IN A NUTRIBULLET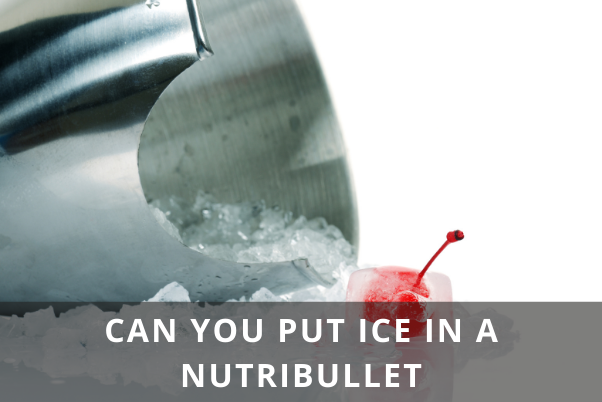 Nutribullet blenders have become a popular household utensil among many people. It might be small in size but its compact and powerful convenience feature has made it in demand.
What's more, you can make different types of drinks and smoothies from this little one. However, many people prefer to add ice to their cold drinks. Therefore, they might ask, can you put ice in a Nutribullet?
The answer is, it actually depends on the model of your Nutribullet blender. Yet, one shouldn't put ice alone in a blender. Also, you need to keep some things in mind in order to do that. Let's know in detail.
Can you put frozen fruit in a nutribullet
Ice might be a little sensitive to the blades of the blender. However, in terms of frozen fruit, Nutribullet is remarkably forgiving and safer. Still, it is advised to let the frozen fruit soften before putting it into the blender.
While most models of Nutribullet can deal with hard frozen fruit, yet you need to keep in mind that fresh fruits are easier and safer to blend. Moreover, it doesn't take time for the frozen fruit to soften.

Which NutriBullet can crush ice
Crushing hard ice can be a bit tricky for any kind of blender. However, just keep two things in consideration before doing this job. One is the type of blade of the blender and the second is the strength of the motor.
If your Nutribullet model comes with a motor strength of 600 watts or more, then it can handle the ice. On the other hand, if your Nutribullet doesn't come with an ice-crushing-rated blade, it means it can't withstand the ice. So, check the model of your Nutribullet before buying.
And considering all the amazing features, you can try the following one:  NutriBullet NBR-1201 12-Piece High-Speed Blender/Mixer System, Gray (600 Watts)
What can you make in a NutriBullet
In terms of processing any food, Nutribullet serves as the best kitchen buddy. You can prepare many kinds of things out of your blender. For example, you can make smoothies from a variety of fresh fruits without losing their authentic flavors. Also, you can prepare protein and milkshakes by just putting in the ingredients and pressing the button. You will find the perfect consistency in your shake without any effort.
You can also make almond or peanut butter with the fine blades of Nutribullet. All you have to do is follow the recipe. On top of that, you can also make baby foods by effortlessly blending veggies and fruits. This blender provides a suitable texture and consistency of food for a baby.
Moreover, you can prepare ketchup, mayonnaise, and pureed soups very easily at home with Nutribullet blenders.
How to use nutribullet:
Making smoothies and other delicious beverages has never been easier with the NutriBullet! This powerful blender is designed to extract essential nutrients from fruits, vegetables, and other healthy ingredients. Here is a step-by-step guide to using your NutriBullet correctly:
1. Gather Ingredients: Begin by gathering all of the ingredients you plan on blending in your NutriBullet. Fruits, ice cubes, yogurt and other liquids are great additions to any smoothie. Make sure not to fill your NutriBullet cup past the Max Line indicated on the side of the cup.
2. Add Liquid: Next, add a liquid to your ingredients in order to facilitate blending. Water is usually used, but you can also use juice or other liquids depending on what type of beverage you are making. Make sure to add the liquid last so that it does not overflow.
3. Secure Lid: Place your lid securely on top of the cup and twist counterclockwise until it clicks into place. This will ensure that all ingredients are secure within your NutriBullet.
4. Push Down: Firmly press down on the cup to activate the blending. You may need to press down more than once if larger ingredients are not blending correctly.
5. Blend Time: Depending on what type of beverage you are making, blend for different amounts of time. For example, smoothies usually require 30-45 seconds of blending whereas milkshakes may need up to a minute or two.
6. Enjoy: Once your beverage is blended, remove the lid and enjoy your delicious creation! You can store any leftover portions in your fridge for up to 2 days.
Using a NutriBullet is an easy and quick way to make nutritious smoothies and other beverages at home or on the go! Have fun experimenting with different ingredients and creating unique drinks. Enjoy!
Final Verdict
You can't disagree with the benefits of having a Nutribullet in your daily cooking. However, from making many delicious drinks to crushing ice with other ingredients, it works just fine.
I hope you have got your answer regarding the question; can you put ice in a Nutribullet? Just make sure not to put them alone in the blender.