TOMATO QUINOA SALAD RECIPE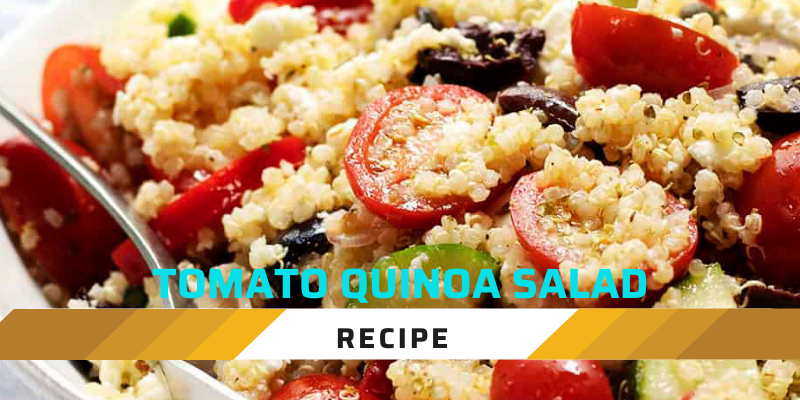 Get one step ahead in the game of making quinoa recipes with the delicious tomato quinoa salad. Making this item will take you very little time. Besides, it is tasty and easy to prepare as well. For a light and flavorful salad, Tomato Quinoa Salad is one of the best dishes to make.
Bursting with fresh tomatoes, quinoa, and a variety of herbs, this delicious salad is an easy-to-make dish that provides a nutritious and tasty lunch or dinner.
Not only is Tomato Quinoa Salad healthy and full of flavor, but it also comes together in just 30 minutes. So get ready to create a delicious quinoa and tomato salad for your next meal!
Tomato quinoa salad is great for quick lunches or as a side dish, and it will make you feel healthy from the inside. You can have it anytime anywhere whether it is at work, school, or at home.
So, for your convenience, I have given my personal favorite recipe in this article. You can either follow it thoroughly or make changes according to your taste.
Ingredients to Make Tomato Quinoa Salad
To make your tomato quinoa salad more flavorful, make sure you have all these items given below. You can even add more amounts of ingredients if you like. That is totally up to you.
To make the salad, you will need 1/2 cup of quinoa, 3/4 cup water, 2-3 cups of tomatoes chopped into pieces, and 2 tablespoons of avocado oil. Apart from this, you will also need drained and rinsed chickpeas of 15 oz can, 1/4 cup of green onion chopped into pieces, 1 clove garlic that is smashed and minced. Besides, take 2 limes, 1/2 teaspoon cumin that should be grounded, 1 tablespoon of chopped parsley, 1/4 teaspoon sea salt, and 1/8 teaspoon pepper. You can use extra fresh parsley later for more flavors.
Recipe of Tomato Quinoa Salad
Tomato Quinoa Salad is pretty simple to make and following the steps below will make it simpler.
Step 1
At first, using a mesh strainer or sieve, clean the quinoa. To drain the extra water, gently roast the quinoa in a small pot over medium heat and for a few minutes, stir while it cooks. It greatly enhances its nuttiness and fluffy quality. After that, pour water, increase the heat to high and boil it. Then cook it on low heat for 12-13 minutes, or until the quinoa is frothy and water has been soaked. Make sure the cover of the pot is slightly left open.
Step 2
Because it takes a while for the quinoa to cook, you can do other things in the meantime. You can cut, slice, and prepare the additional ingredients while it cooks.
Step 3
Add avocado oil with other ingredients like- lime juice, minced garlic, parsley, cumin, salt, and pepper. This will be the dressing.
Step 4
When the quinoa is done, fluff it with a fork and set it aside to cool. You can also put it in the fridge or freezer for a while to cool it down.  After that take the chilled quinoa and mix it with tomatoes, green onion, and chickpeas.  In this stage, you can add extra parsley if you want. Adding additional 2-3 tablespoons of parsley can make it more flavorful. Pour half of the dressing into the salad and dig in. Add the rest of the dressing on top of the salad if you want. Taste and season it if needed.
P.S. If you like your salad a little tart, then use approximately 4 tablespoons of lime juice. Do not hesitate to modify the amount depending on your preference.
What Dressing Can You Use for Quinoa Salad?
There are a variety of excellent salad dressings that would go great with tomato quinoa salad. You can make a zesty garlic-lime dressing and mix it with the quinoa salad. It would also go well with Italian, Greek, or maple citrus salad dressings.
How Long Can You Keep Quinoa Salad in the Fridge?
You can easily keep your quinoa salad in the fridge for 3-5 days. All you need to do is put your chilled quinoa or quinoa salad in a firmly closed container to preserve. It is better to keep the salad with the dressing on the side and mix it in before serving. However, you can also lightly dress the salad and store it with the dressing. It won't become mushy like lettuce-based salads.
Conclusion
Tomato quinoa salad is not only simple to prepare, but it can also be considered a nutritious diet for anyone. It is enough to make your day a little more refreshing.
Just make sure the quinoa is well-cooked and the dressing is to your liking. Do not forget to mention how your salad-making goes if you follow this recipe. Besides, if you find that modifying the amount of some ingredients works better for you, please let us know why and how it comes out. Also, please do share this recipe with your friends and close ones if you like it.